ABLE MUSE BOOK AWARD
2012 Results
(Judged anonymously throughout by the Able Muse Contest Committee and the final judge, Mary Jo Salter) 

Congratulations to the 2012
Able Muse Book Award
He wins the $1000 prize and publication by Able Muse Press, Spring/Summer 2013

. . . READ MORE
FINALISTS
• Sass Brown: USA-1000
• Ellen Kaufman: House Music
• Carol Light: Heaven from Steam - twenty-two skies and eighteen yets
• Richard Newman: All the Wasted Beauty of the World
• Stephen Scaer: Pumpkin Chucking
Some of the top placing finalists above, in our anonymous judging process, will also be offered a standard Able Muse Press book contract
HONORABLE MENTION
• Ash Bowen: How Gravity Hated Us
• Wendy Galgan: Banishing the Muse
• Jean L. Kreiling: Uncertain Song
• Tayve Neese: Blood to Fruit
• Carrie Shipers: Family Resemblances
• Helen Wickes: Single Thread
• Rob Wright: Strange Obsequies

Stay tuned for the announcements coming soon for the 2013 Able Muse contests.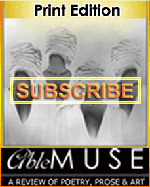 Subscribe now to Able Muse to read the fine work of the winners of our other contests, the 2012 Write Prize for poetry and fiction, in the forthcoming Winter 2012 issue.
---
2011 Able Muse Book Award WINNER
Matthew Buckley Smith (selected by Andrew Hudgins)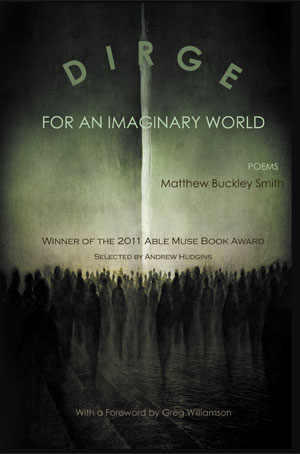 Dirge for an Imaginary World - poems by Matthew Buckley Smith
(with a Foreword by Greg Williamson)
 . . . read more | Order your copy now!
(2011 Winner Announcement here)