Book Launch for National Poetry Month - Three Able Muse Press Poets Read from Their New Collections - Free Admission for All
National Poetry Month Book-Launch Reading with Three Able Muse Authors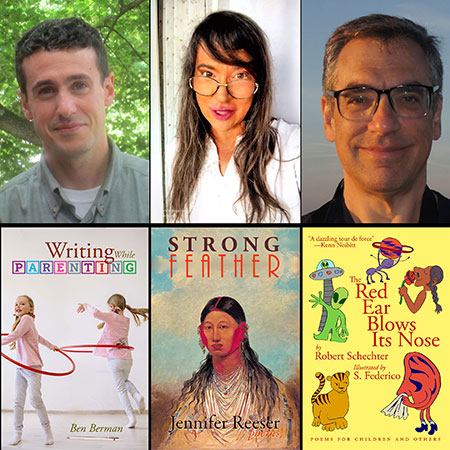 Free Admission for All. Sign-Up Required.
National Poetry Month Book Launch - Three Able Muse Press Poets Read from Their New Collections - Free Admission for All
National Poetry Month's Able Muse Authors Book-Launch Reading
Date: Sunday, April 30, 3-4:30 P.M. EDT
Host: Kelly Rowe;
Join us for a virtual reading and Q&A with three Able Muse Press authors Ben Berman, Jennifer Reeser, and Robert Schechter reading from their new collections--
~ ~ ~
About the Readers:
- Ben Berman: Writing While Parenting: Essays (Able Muse Press, 2023);
- Jennifer Reeser: Strong Feather: Poems (Able Muse Press, 2023);
- Robert Schechter: The Red Ear Blows Its Nose: Poems for Children and Others, illustrated by S. Federico (Word Galaxy Press, 2023).
Ben Berman is the author of four books – Strange Borderlands, Figuring in the Figure, Then Again, and Writing While Parenting. He has won the Peace Corps Award for the Best Book of Poetry, has been shortlisted twice for the Massachusetts Book Awards and has received awards from the Massachusetts Cultural Council, New England Poetry Club and Somerville Arts Council.
   Ben has been teaching for over twenty years and currently teaches creative writing classes at Brookline High School. He lives in the Boston area with his wife and two daughters.
Jennifer Reeser is the author of six collections of poetry, most recently, Strong Feather (Able Muse Press, 2022), and preceding it, Indigenous (Able Muse Press, 2019), which was awarded Best Poetry Book of 2019 by Englewood Review of Books. Her first, An Alabaster Flask, was the winner of the Word Press First Book Prize. X. J. Kennedy wrote that her debut "ought to have been a candidate for a Pulitzer." Her third, Sonnets from the Dark Lady and Other Poems, was a finalist for the Donald Justice Prize. Her fourth, The Lalaurie Horror, debuted as an Amazon bestseller in the category of Epic Poetry. Reeser's poems, reviews, and translations of Russian, French, along with the Cherokee and various Native American Indian languages, have appeared in Poetry, Rattle, the Hudson Review, Recours au Poème, Light Quarterly, the Formalist, the Dark Horse, SALT, Able Muse, and elsewhere.
  A biracial writer of Anglo-Celtic and Native American Indian ancestry, Reeser was born in Louisiana. She studied English at McNeese State University in Lake Charles, Louisiana, and also in Tulsa, Oklahoma, her former home.

Robert Schechter's award-winning poetry for children has appeared in Highlights for Children, Cricket, Spider, Ladybug, the Caterpillar, Blast Off, Countdown, Orbit, and more than a dozen anthologies published by Bloomsbury, National Geographic, Macmillan, Houghton Mifflin Harcourt, the Emma Press, and Little, Brown Books for Young Readers. His poems for adults have won both the Willis Barnstone Translation Prize and the X. J. Kennedy Parody Award, and his verse often appears in the Washington Post Style Invitational (where he is a former Rookie and Loser of the Year) and in the Spectator magazine's weekly humor competition. This is his first collection.
~ ~ ~
About the Host:
- Kelly Rowe: Winner, Able Muse Book Award 2021 with Rise above the River (Able Muse Press, 2023);
Kelly Rowe
's chapbook 
Flying South on the Back of a Dove
 was published by the Texas Review Press in January 2019. Her second chapbook, 
Child Bed Fever
, was selected for the 2021 Rane Arroyo Series, and published by Seven Kitchens Press in November 2022. She has recently published poems in journals including 
North American Review, New Ohio Review, 32 Poems, Massachusetts Review, Salamander
, and 
New Letters
. She lives in Flagstaff, Arizona, and works as a volunteer attorney, representing undocumented women.
~ ~ ~