Reading Event - Three Able Muse Press Poets Read from Their New Collections - Free Admission for All
Reading Event with Three Able Muse Authors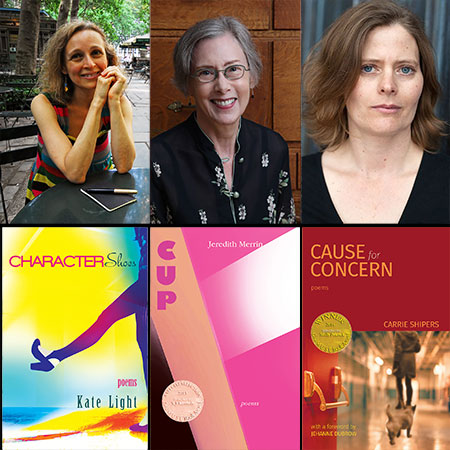 Free Admission for All. Sign-Up Required.
Three Acclaimed Able Muse Press Authors Read - Free Admission for All
Able Muse Press Authors Reading
Date: Sunday, March 26, 3-4:30 P.M. EDT
Host: Janis Harrington;
Join us for a virtual reading and Q&A with three Able Muse Press authors Kate Light, Jeredith Merrin, and Carrie Shipers reading from their collections--
~ ~ ~
About the Readers:
- Kate Light: Character Shoes: Poems (Able Muse Press, 2019)----published posthumously: Michael Palma reads on behalf of Kate Light;
- Jeredith Merrin: Runner-Up, Able Muse Book Award 2013 with Cup: Poems (Able Muse Press, 2014);
- Carrie Shipers: Winner, Able Muse Book Award 2014 with Cause for Concern: Poems (Able Muse Press, 2015).
Kate Light's works include three previous volumes of poetry: Gravity's Dream (winner of the Donald Justice Award, 2006), Open Slowly (Zoo Press, 2003), and The Laws of Falling Bodies (winner of the Nicholas Roerich Prize, 1997). Her poetry has appeared in the Paris Review, the Hudson Review, Washington Post Book World, Feminist Studies, the Dark Horse, Mezzo-Camin, the Formalist, Evansville Review, New York Sun, the anthologies Western Wind, Villanelles, Obsession: Sestinas in the 21st Century, Poetry Daily, The Penguin Book of the Sonnet, Garrison Keillor's Good Poems for Hard Times among other publications, and was featured in the Durham, NC, "Poetry on the Bus" series, as well as several times on Keillor's the Writers Almanac. Author of several multi-genre works, including libretti and lyrics, she read widely, taught at Hunter College, and was also a professional violinist. Kate died on April 13, 2016, of complications from breast cancer.
Jeredith Merrin—brought up in the Pacific Northwest—took her MA in English (specializing in Chaucer), and a PhD from UC Berkeley in Anglo-American Poetry and Poetics. Cup, a special honoree in the 2013 Able Muse Book Award, is her third collection; her previous books are Shift and Bat Ode (University of Chicago Press Phoenix Poets series). She's authored an influential book of criticism on Marianne Moore and Elizabeth Bishop. Her reviews and essays (on Moore, Bishop, Clare, Mew, Amichai, and others), and poems have appeared in Paris Review, Slate, Ploughshares, Southwest Review, Yale Review and elsewhere. A retired Professor of English (The Ohio State University), she lives near Phoenix.

Carrie Shipers's poems have appeared in Alaska Quarterly Review, Crab Orchard Review, Connecticut Review, New England Review, North American Review, and Prairie Schooner, among other journals. She is the author of Ordinary Mourning (ABZ Press, 2010) and the chapbooks Ghost-Writing (Pudding House, 2007) and Rescue Conditions (Slipstream Press, 2008).
  Cause for Concern is the winner of the 2014 Able Muse Book Award.
~ ~ ~
About the Host:
- Janis Harrington: Finalist, Able Muse Book Award 2020 with How to Cut a Woman in Half: Poems (Able Muse Press, 2022).
Janis Harrington
's first book, 
Waiting for the Hurricane
, won the Lena M. Shull Book Award from the North Carolina Poetry Society. Her poems have appeared in journals and anthologies, including: 
Tar River Poetry
, 
Journal of the American Medical Association
, 
North Carolina Literary Review
, and 
Beyond Forgetting: Poetry and Prose about Alzheimer's Disease
. She was the runner-up for the White Pine Press Poetry Prize 2020 and a finalist for the 2021 James Applewhite Poetry Prize and the 2022 Randall Jarrell Poetry Competition. After living in Switzerland for many years, she and her husband returned to Chapel Hill, North Carolina.   
How to Cut a Woman in Half
 was a finalist for the 2020 Able Muse Book Award.
~ ~ ~