Translation Special Reading with Three Able Muse Press Poets and Translators - Free Admission for All
Translation Special Reading Event with Three Able Muse Poets and Translators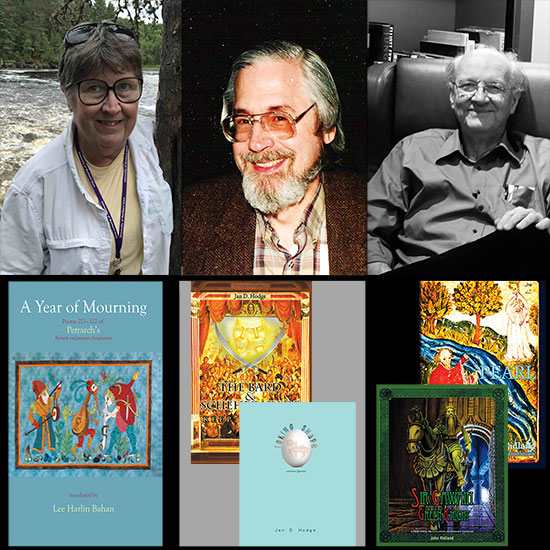 Free Admission for All. Sign-Up Required.
Translation Special Reading Event with Three Able Muse Poets and Translators
Able Muse Translation Special Reading Event
Date: Saturday, February 19, 3-4:30 P.M. EDT
Host: Len Krisak;
Join us for a virtual reading and Q&A with three Able Muse Press poets and translators Lee Harlin Bahan, Jan D. Hodge, and John Ridland reading--
~ ~ ~
About the Readers:
- Lee Harlin Bahan: Year of Mourning: Poems 271-322 of Petrarch's Rerum vulgarium fragmenta (Able Muse Press, 2017);
- Jan D. Hodge: The Bard and Scheherazade Keep Company - Poems (Able Muse Press, 2017); Taking Shape - carmina figurata (Able Muse Press, 2015);
- John Ridland: Pearl - A New Verse Translation in Modern English (Able Muse Press, 2018); Sir Gawain and the Green Knight - a new Modern English translation (Able Muse Press, 2016)---Reading on behalf of John Ridland are the poets and translators (Middle English specialists): Maryann Corbett and Sally Thomas.
Lee Harlin Bahan is the author of two chapbooks of poetry, Migration Solo (Writers' Center Press of Indianapolis, 1989) and Notes to Sing (Finishing Line Press, 2016), as well as two collections of translations of Petrarch's sonnets, A Year of Mourning (Able Muse Press, 2017), named a special honoree for the 2016 Able Muse Book Award, and To Wrestle with the Angel: Sonnets from Petrarch's "Chapbook" of 1337 (Finishing Line Press, 2018). Lee continues to "bulldoze" through Petrarch's Rerum vulgarium fragmenta, now translating sestinas and sonnets which scholar Thomas Roche identifies with the Christian seasons of Advent and Lent. She and her husband Pat live in a one-hundred-year-old farmhouse outside Medora, Indiana.
Jan D. Hodge having grown up in a letterpress print shop in small town Michigan, received his BA and MA degrees from the University of Michigan and his PhD from the University of New Mexico, where he wrote his dissertation on Charles Dickens. He taught at Rockford (Illinois) College and at Morningside College in Sioux City, Iowa. His poems have appeared in Iambs & Trochees, American Arts Quarterly, Defined Providence, and many other print and online journals.
John Ridland was born in London in 1933 to British parents. When he was two, his family immigrated to California where he has lived most of his life. Four years at Swarthmore College were followed by two in the United States Army in Puerto Rico. In 1956 he entered graduate studies at Berkeley where he met and married Muriel Thomas from New Zealand, a fellow graduate student. In 1964 he completed a PhD from Claremont Graduate University. Dr. Ridland taught English at the University of California, Santa Barbara, for forty-three years, including three years based in Melbourne as director for the UC Education Abroad Program in Australia. His book publications include A Brahms Card Ballad (2007), first published in Hungarian translation (2004), Happy in an Ordinary Thing (2013), and a book-length translation of Petöfi's John the Valiant (1999). With his essential collaborator, Dr. Peter Czipott, Dr. Ridland has translated several other Hungarian poets, including Sándor Márai's The Withering World (Alma Classics, 2013) and Miklos Rádnoti's All That Still Matters at All (New American Press, 2014). In 2014 Askew Publications issued his epic poem, A. Lincolniad. He passed away in Santa Barbara, California, on January 29, 2020, after a brief battle of only a couple of months with an aggressive kind of cancer.
~ ~ ~
About the Host:
- Len Krisak: Winner, 2020 Able Muse Book Award with Say What You Will (Able Muse Press, 2021).
Len Krisak
graduated from the University of Michigan in 1970 and took his MA from Brandeis University in 1974. In Massachusetts, he worked as a textbook editor and English teacher at Brandeis, Northeastern University, Bentley University, and Stonehill College before retiring in 2010 to write poems and translate. His chapbooks include 
Midland
 and 
Fugitive Child
. His book 
Even as We Speak
 won the Richard Wilbur Prize. He is the recipient of numerous other prizes, including the Robert Frost Prize and the Robert Penn Warren Award. He is also the GoldPocket.com 2000 National Trivia Champion and a four-time champion on 
Jeopardy!
~ ~ ~