Book Launch - Two Able Muse Press Poets Read from Their New Collections - Free Admission for All
Book-Launch Reading with Two Able Muse Authors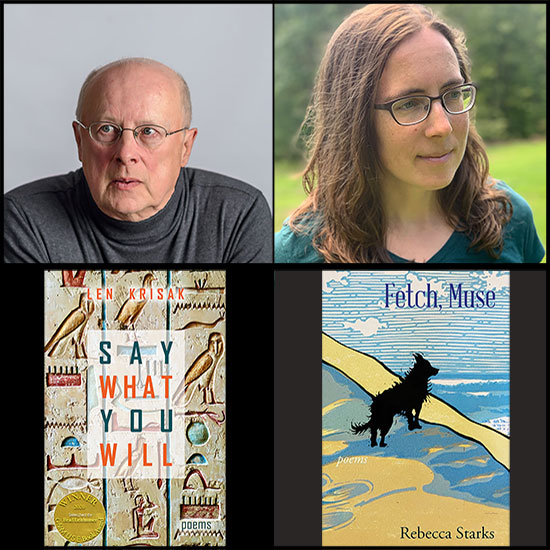 Free Admission for All. Sign-Up Required.
Book Launch - Two Able Muse Press Poets Read from Their New Collections - Free Admission for All
Able Muse Authors Book-Launch Reading
Date: Saturday, November 13, 3-4 P.M. EDT
Host: Deirdre O'Connor;
Join us for a virtual reading and Q&A with two Able Muse Press authors Len Krisak and Rebecca Starks reading from their new collections--
~ ~ ~
About the Readers:
- Len Krisak: Winner, 2020 Able Muse Book Award with Say What You Will (Able Muse Press, 2021);
- Rebbeca Starks: Fetch, Muse (Able Muse Press, 2021); Time Is Always Now (Able Muse Press, 2019).
Len Krisak graduated from the University of Michigan in 1970 and took his MA from Brandeis University in 1974. In Massachusetts, he worked as a textbook editor and English teacher at Brandeis, Northeastern University, Bentley University, and Stonehill College before retiring in 2010 to write poems and translate. His chapbooks include Midland and Fugitive Child. His book Even as We Speak won the Richard Wilbur Prize. He is the recipient of numerous other prizes, including the Robert Frost Prize and the Robert Penn Warren Award. He is also the GoldPocket.com 2000 National Trivia Champion and a four-time champion on Jeopardy!
Rebbeca Starks grew up in Louisville, Kentucky, and earned a BA in English from Yale University and a PhD in English from Stanford University. She works as a freelance editor and workshop leader. Her first book of poems, Time Is Always Now, was a finalist for the 2019 Able Muse Book Award. Her poems and short fiction have appeared in Baltimore Review, Ocean State Review, Slice Literary, Crab Orchard Review, Tahoma Literary Review, and elsewhere. Winner of Rattle's 2018 Neil Postman Award for Metaphor and past winner of Poetry Northwest's Richard Hugo Prize, she is the founding editor-in-chief of Mud Season Review and is a board member of Sundog Poetry Center. She lives with her family and two adopted dogs in a log cabin in the woods of Richmond, Vermont.
~ ~ ~
About the Host:
- Deirdre O'Connor: Winner, Able Muse Book Award 2018 with The Cupped Field (Able Muse Press, 2019).
Deirdre O'Connor
's first book, 
Before the Blue Hour
, received the Cleveland State Poetry Center Prize. Her work has appeared in 
Poetry, Crazyhorse, Cave Wall
, and other journals, and she has been awarded residencies at the Vermont Studio Center and the Heinrich Boll Cottage in Ireland. She directs the Writing Center at Bucknell University, where she also serves as Associate Director of the Bucknell Seminar for Undergraduate Poets. A native of Pittsburgh, she lives in Central Pennsylvania.
~ ~ ~